Everything You Need To Know About Wedding Magician Hire
Close-up Magic (or, table magic) is performed to small groups by a magician who works with everyday objects such as phones, watches and coins, and, is able to move easily and smoothly from one group or area to another. The magic is performed in plain sight without the aid of any lighting, mirrors or large props.
The good thing about close-up magic is that it is self-contained and can be performed at a moment's notice and similarly stopped just as quickly. A close-up performer can typically entertain approximately 30 – 50 people per hour, depending on the crowd and based on big tables that seat 10 people. So, make sure you book your act for the appropriate amount of time so that they can get around all the tables or guests and mix and mingle! Close up magic is perfect for weddings and drink receptions, as well as wedding breakfasts for the ultimate impact.
A close up magician can also perform amazing sleights of hand to entertain your guests at the blink of an eye. It really is spectacular to witness professional magicians who are specialising in close up magic blow onlookers away at a wedding day.
Cabaret Magic is great as after-dinner entertainment at corporate functions or any large gathering and is more interactive than stage magic. A show can last from 20 to 40 minutes and is suitable for audiences of up to 150 people.
Stage Magic often features large-scale illusions and involves less audience participation than cabaret does; the spectators simply watch in amazement as objects appear from nowhere, disappear and / or behave in mysterious ways. Magic shows stage magicians and are suitable for audiences of 150+ and is typically performed within an auditorium.
Mind Reading magicians for hire are highly recommended for anyone that is considering something special for their wedding entertainment. Wedding magicians are definitely able to create incredible moments and mind readers have the ability to perform certain tricks that will be talked about for years to come! Search through our award winning magicians now to find something special.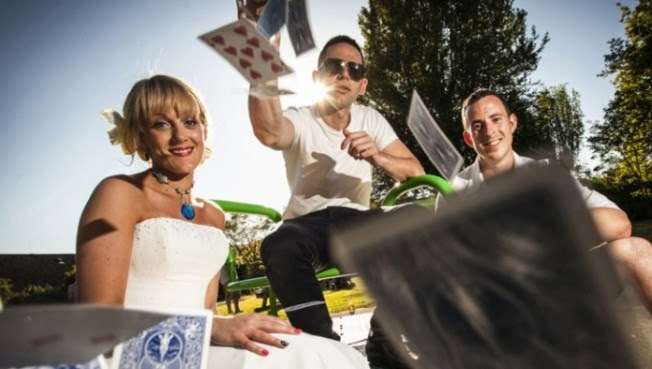 At Warble we have magicians available for hire all over the UK, this ensures that you can book local magicians and keep the costs down for your wedding or event. Search our entertainers below to find out more >>
As the UK's leading wedding entertainment agency and bands for hire experts, we also have wedding musicians, wedding bands for hire, cover bands, party bands and function bands for your events.
The choice is genuinely endless and if you can't find something on the roster below to suit your wedding, event or theme, just contact one of our experienced coordinators today.