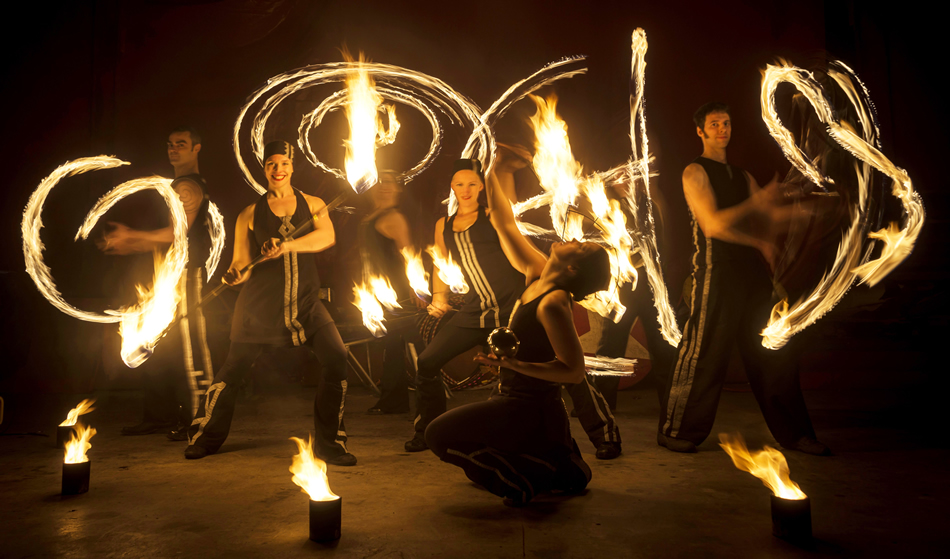 Hiring a Fire Performer may be something you have not done before so we thought to give you a helping hand we'd provide a few of the most popular FAQS...
What happens if it rains?
This is the question that we get asked most often. The performers that we work with are usually happy to get a bit soggy during their performance, and light rain shouldn't affect it at all. In fact, the fire lights up the rain drops which gives the whole show a great atmosphere. If there is a downpour then the performer can wait for a break in the weather, or move the performance forward. The fire performer(s) will always work hard not to let adverse weather conditions lead to non-performance.
How much room do you need for a fire show?
Ideally, the performers need around 8 meters x 8 meters, but let us know how much space you have and we can see if the show can be amended to fit the size you have.
How long is a fire show?
The show is 20 – 25 minutes long depending on the choreography of the individual or group performance. If you like, there is also an option to have a 40 minute 'meet and greet' set of fire, 'ambient' fire, walkabout juggling, glow juggling, crystal ball juggling or stilt walking. This is based on availability of the appropriate performer for your requirements.
Is the fire show safe?
Yes! This doesn't mean that you should try one in your living-room though! All of our performers have years of experience and perform for events internationally. They take safety extremely seriously and their two hour set-up reflects this. They also bring health and safety equipment with them to your event including fire extinguishers, fire blankets and where possible, access to running water.
Do the performers have insurance?
All of our performers are insured with Public Liability Insurance for any event or show.
What is the Pyrotechnic Finale?
The pyrotechnic finale is an optional extra. The performer has a staff or club, which is fitted with stage- safe pyrotechnics. When lit, the performer spins and twirls the staff/club around themselves, giving the effect of a giant human Catherine wheel. It is stunning, and we definitely recommend it!
What is the Difference between a 'meet and greet' set and a show?
The show is completely different to the 'meet and greet'. 'Meet and greet' is stationary and the performer requires a 5 meter x 5 meter area for this. It is not a 'stop and watch' performance, it is simply an exciting and impressive way to greet guests as they arrive at your event. Usually the performers will be located at the entrance to your venue and they will juggle and spin fire. The 'meet and greet' set lasts for 40 minutes and usually takes place as your guests arrive.
What is the difference between 'Meet and Greet' and 'Ambient' Fire?
'Ambient' Fire, which can be performed via 3 x 40 minute sets during your event is usually utilised for events with over 200 guests and creates an ambience, with the performer(s) stationed on the periphery of your congregating guests. Again, this is used more to enhance the atmosphere as opposed to a stop and watch show.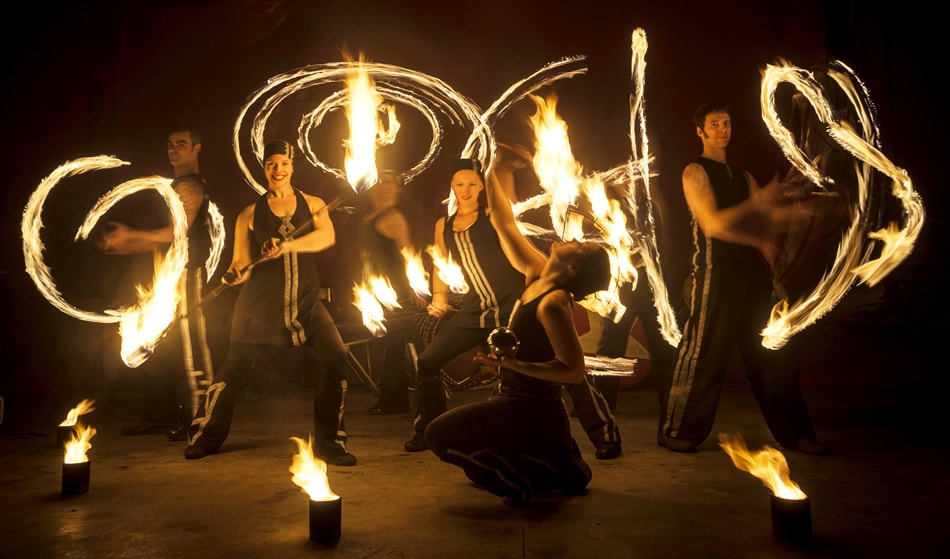 Does the performer provide music?
This depends on the performer. Some of the performers choose not to use music so that they can have vocal interaction with the crowd. For the shows that involve music the performer will provide this as the routine will have been choreographed to specific songs; they can also provide a PA for this so you don't need to hire one in. Let your coordinator know if you would prefer a performer who works to music and they can make sure that the correct performer is booked for you.
Will they require power?
Just like any live wedding band for hire, We always advise ensuring that the performer has access to mains electricity in the event they are performing to music. If there is absolutely no access to power then the performer can use a battery operated PA. They will just need to know in advance.
What time will the performer arrive?
For a fire show, the performer will arrive 2 hours before they are due to begin, this allows them enough time to liaise with the venue and carry out all of their health and safety procedures as well as mark out their performance space and warm up for the show.
Is one performer enough for my event?
Definitely! Having one performer creates a great focal point for your guests. All of the solo shows are choreographed, the same as the group shows, so you don't lose any of the skills or techniques. Matt and Tracey, the owners of Warble, booked a solo fire show with pyrotechnic finale for their wedding, it was amazing and the guests loved it! For larger audiences or to create a real WOW factor then more than one performer is recommended. If you have space or budget restrictions then having one performer is much better than no performer at all.
Will the equipment burn the ground?
No, our performers use a variety of fire retardant equipment which will prevent the ground from being damaged. After a piece of equipment is used in a show, it is placed onto fire safe fabric, not directly on the floor. The fire pots which the performers use not only to relight their equipment, but also create ambience for the event are insulated so the heat does not burn the ground.
What will I need to provide them with?
The performer will require a safe, and preferably, lockable changing room to store their equipment and fuel, as well as soft drinks or water. If the performer is expected to be at your event for longer than a 3 hour period then they will also need food of some kind, though this doesn't need to be anything extravagant, sandwiches are usually fine. They will also ideally require access to running water and as mentioned before, access to mains electricity. Parking and changing rooms are also much appreciated where possible.
As the UK's leading wedding entertainment agency and bands for hire experts, we also have wedding musicians, cover bands, party bands and function bands for your events.
We hope this answers any questions you may have, but if you need any further advice please do not hesitate to contact us on 0845 6439384 or 01270 501164, or make an enquiry below.